Not for nuthin' ova' heeya, but Williamsburg Brooklyn has a whole lot of great discount shopping. Once only populated with old warehouses, this area is now one of New York's newest & trendiest urban hotspots. It is filled with fab stores selling everything from the latest styles to the most sought after vintage, all at fraction of what you would pay "over the bridge" On this tour, like all of our offerings, we have found the hottest fashions at the lowest prices. There is something for everyone. We know that finding your way to Brooklyn may be daunting. And where do you go once you get there!? So we've done the work for you. We've hand picked a group of the best locations where you will find the hottest designer, contemporary and even vintage duds at the best possible prices. You will visit a mixture of trendy boutiques, off-price designer, vintage and consignment. You will see everything from top names like Prada, Betsey Johnson, Juicy Couture and 7 for all Mankind on down. This tour is open to men & women.
Transportation to & from Union Square(14th St) is included in the price. You will receive special discounts at the shops we visit. We will also provide you with an "Extra List", which is a list of sample sales around the area & the city, PLUS info & a discount card for other stores & restaurants in this neighborhood and other areas of NY. You will also get a short lesson in Brooklynese, which is very important if you want to converse with the natives.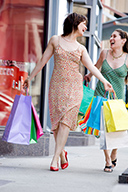 One of the things that distinguishes Elegant Tightwad Shopping Excursions from the rest is that the stops on these tours are personally handpicked by Pamela Parisi, The Elegant Tightwad. She is a published author & recognized expert on shopping & fashion who is called on by the likes of CNN & CBS news to comment on current trends and money saving shopping tips.
Price: $35 per guest.
Each trek includes:
- 3 hours of shopping
- "Extra List" - a comprehensive list of sales happening around city, from the day of your trek to 5 days out, categorized by neighborhood, that you can visit on your own
(after the tour, of course).

Dates

12pm-3pm
July 31
August 7,8,14,15,,21,22,
September 3,4,5,18,19,25,26
October 2,3, 9,10,16,17,22,24, 30,31
November 6,7,13,14, 20,21,26,27,28
December 3,4,5,10,11,12,17,18,19,22, 23